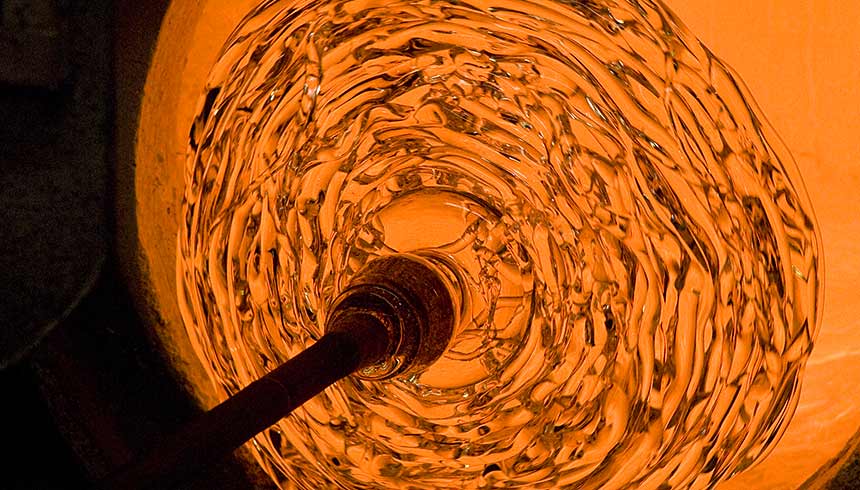 Cohn-Stone Studios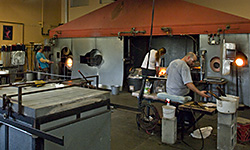 Cohn-Stone Studios' artists Michael Cohn and Molly Stone are leaders in the art of glass. Working together since 1980, Michael and Molly have shared a love of nature, process, materials and glass art design as well as a commitment to creating artworks of the highest level of quality and innovation. Their studio is one of the nation's foremost producers of award winning glass art designs, decorative art pieces and one-of-a-kind works of art. Their work has been exhibited throughout the USA, Canada, Europe, Scandinavia, Australia, Japan and South America. Their artworks are included in museum, garden, corporate and private collections.
Their original Emeryville, CA glass blowing studio was their workplace for 21 years. In 2001, they purchased a 6000 square foot building in the San Francisco Bay Area town of Richmond, California. Michael designed and built the studio space and all of the studio equipment — furnaces, glory holes, ovens and other related equipment and he oversees the studio hot and cold shop operations. Molly designed, installed, and maintains the garden and studio showrooms and she oversees all of the Cohn-Stone Studios business details. They both design and blow glass.

"The studio bustles. We employ three assistants everyday and we blow glass as a team. The atmosphere is exhilarating. Anything is possible!"
Throughout the year, hand blown glass art installations in the Studio Garden, evolve with the seasons. "The garden is an ever-changing source of inspiration and a perfect showroom for the art glass". Peeking out among the plantings are blown glass flowers and glass fruits, abstract and figurative sculptures, fountain art, glass fish and birds — and in the fall, a glass Pumpkin Patch Garden unlike any other — hundreds of hand blown glass Pumpkins and Squash bloom in the garden. Visited by horticultural enthusiasts as well as glass collectors, the public is invited twice yearly for Garden Showroom Exhibitions.
Cohn-Stone Studios exhibits large installations of their horticultural themed art glass pieces at Botanical Gardens throughout the country. Longwood Gardens in Kennett Square, PA, Atlanta Botanical Garden in Georgia, Franklin Park Conservatory in Columbus, Ohio as well as Filoli and San Francisco Botanical Garden in California have all featured special exhibitions designed for their unique garden settings.
Sign-Up for our Newsletter to receive an invitation to our Studio Events