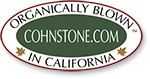 Glass Fruit — Larger-than-life
Succulent, juicy and glowing — our larger-than-life hand blown Glass Fruit series is our artistic interpretation of nature's bountiful harvest in extravagant abundance. These hand blown glass Peaches, Apples, Pears, Heirloom Tomatoes and Strawberries are 8 to 20 inches in size — perfect for making a delicious statement. Adding a whimsical touch, each art glass fruit is hand labeled with a fruit sticker verifying authenticity — "Organically Blown in California".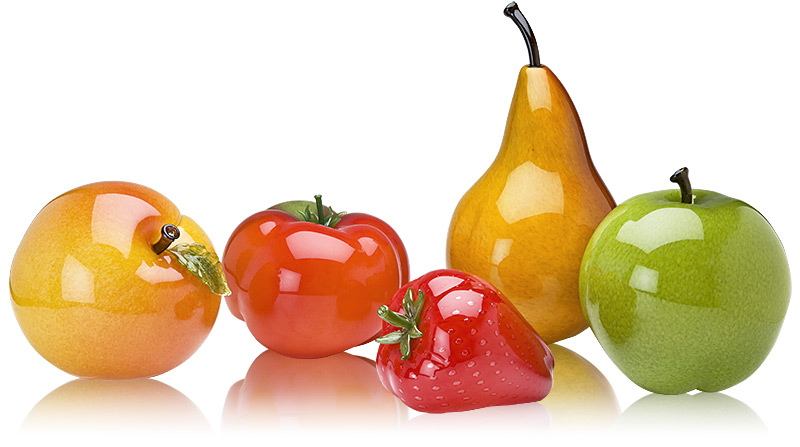 Many fruits are surrounded by a long, colorful history of symbolic meaning and mythical tales. Larger-than-life, our hand blown glass fruits are highly collectable works of glass art.
Strawberry — the first fruit of the year to ripen, strawberries are considered an aphrodisiac and often served to newlyweds. According to Roman legend, when Adonis died, Venus wept uncontrollably. The tears rolled down her cheek and dropped to the earth turning into heart shaped strawberries. The romantic tales make our strawberries a sweet gift of love on Valentine's Day or another special day of love.
Heirloom Tomato — incredibly diverse, juicy and succulent, tomatoes are thought to represent the sun and health. Our red, orange, yellow or green hand blown heirlooms are luscious.
Peach — considered a symbol of immortality, the peach has been said to bring joy and protection ensuring a lucky, long life.
Apple — in almost every culture, the apple is ripe with meaning and mythical folklore. It can signify health, wisdom, joy, fertility, peace, love, masculinity and youthfulness. And, of course, it is often referred to as the original "forbidden fruit". These hand blown glass fruits make wonderful housewarming gifts, gracious centerpieces, or a special blessing for good health.
Pear — the longevity and fruitfulness of pear trees were thought to give strength to marriage. The pear is considered a symbol of everlasting affection between a "pair" of people who are truly in love. Our Gold Bosc, Red Bartlet and Green Comice pears are perfect wedding or anniversary gifts.